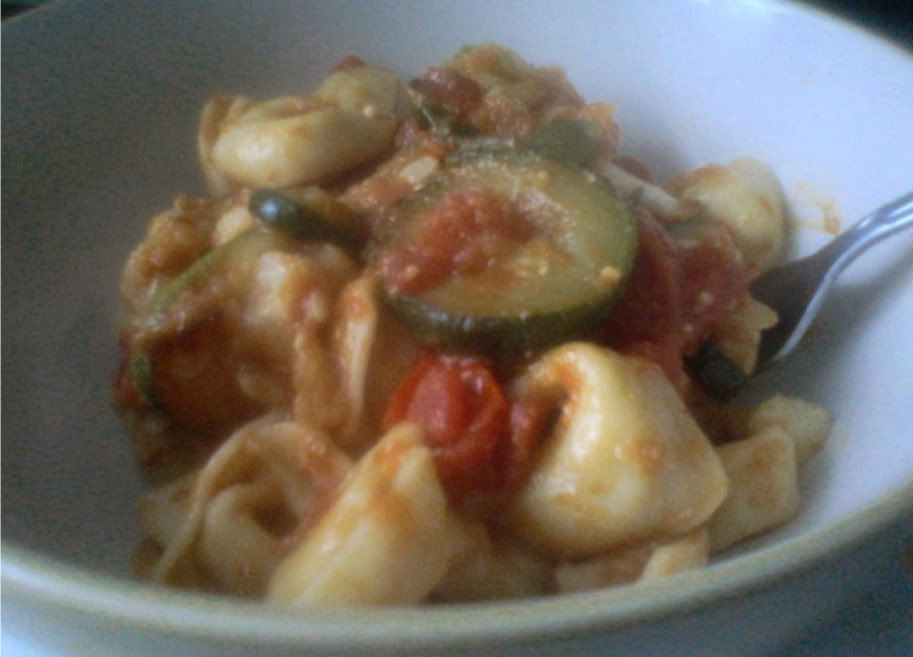 It's hard to believe that Easter is right around the corner. I have really enjoyed finding lots of meatless recipes for abstinence Fridays. Meatless meals have even started making more of an appearance in my menu rotation now that I have some good recipes and keep finding more.
The original recipe called for spinach to be added to the tortellini and sauce, but I chose to include zucchini instead. I love zucchini, as you will see next week, and a lot of my summer cooking incorporates the yummy, delicious veggie. Alfredo sauce was also called for, but I chose to add some chunk to it and add a can of diced tomatoes instead. This recipe was quick and easy as promised by the title and helped to knock out some of the marinara sauce and diced tomatoes that I have sitting around my pantry. Have a wonderful weekend and happy eating!
Ingredients
18 oz. package cheese tortellini
24 oz. marinara sauce
1 can, diced tomatoes
1 tbsp. olive oil
1 tbsp. butter
1 zucchini, sliced
1 tbsp. Italian seasoning
8 oz. shredded mozzarella cheese
¼ cup grated parmesan cheese
1 tsp. Italian seasoning
Directions
Bring a large pot of lightly salted water to a boil. Add pasta and cook according to package directions; drain. Adjust oven rack to the highest position and turn oven on to Broil. Generously butter or grease an 8x8 inch baking dish.
In a pan over medium-high heat, add olive oil and butter. Heat until butter is melted but not brown. Add the sliced zucchini and cook until tender, about 3-5 minutes. Add marinara sauce, diced tomatoes, and Italian seasoning to pan and bring to a simmer. Once simmering, reduce heat to medium-low, and simmer for 10 minutes. Stir cooked tortellini into sauce, then pour into prepared baking dish.

Sprinkle with Mozzarella cheese, Parmesan cheese, and remaining 1 teaspoon Italian seasoning.
Place under broiler until cheese has melted and turned golden, approximately 2 to 3 minutes.