This is Michelle. Hi, Michelle! Michelle is a mutual friend of my husband and I. She was a bridesmaid in our wedding.
Michelle is a teacher in West Virginia and doesn't come home very often. Whenever possible with schedules, trainings, vacations, and holidays, we go out for a night on the town.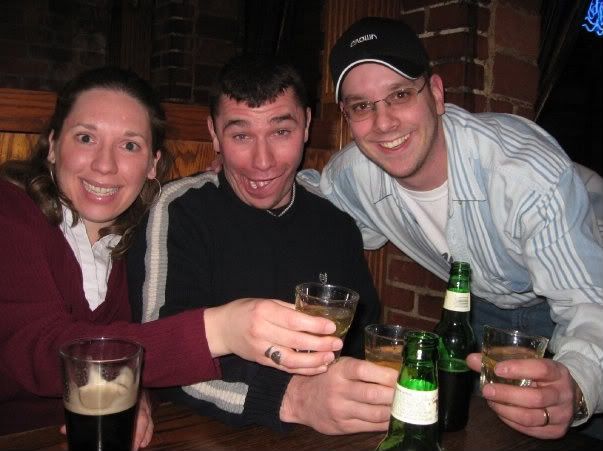 Michelle, Steve, and Dan with their snakebites. It's tradition.
Her youngest brother, Steve, is Dan's best friend. I grew up one block away from their family. Steve is a Military Policeman for the Air Force and has been all over the world since enlisting several years ago. Unfortunately, he was not able to get approved for time off to attend our wedding. I know that it killed Dan to have his best friend missing for such an important day. Wanting to incorporate Steve into the festivities, I came up with the idea of Steve making a toast at the reception. Michelle helped me to arrange everything and ran interference when necessary. It was quite the mission and I am still surprised that everyone pulled it off and actually kept it a secret. Dan was so surprised - it was my favorite part of the evening.
The prerecorded toast being played at our wedding reception.
Imagine my surprise when I saw Michelle sitting in my mom's living room when I went to pick up DJ one day. I invited her over for dinner. It was so nice to be able to spend some time catching up on the good old days and talking about what we are up to now. DJ was an absolute ham and provided our entertainment for the evening. She even brought easter themed smiley cookies from Eat N Park. Yum. Thank you for coming over Michelle - it was so nice to spend time with you and I can't wait for this summer when the whole gang can be together again.
And now, the food. I knew that I wanted to have something casual that could just be passed around and enjoyed amidst the chatter. Here was the line up. I knew that it would be the perfect time to try out a burger recipe I have been dying to try. The sides were an adapted version of summer succotash and german potato salad. Michelle brought bunny smiley cookies for dessert. Yum. Did I say that already? Over the next several days, I will be sharing the recipe for everything that I made. See you tomorrow!
Summer Succotash
German Potato Salad
Stay tuned for the recipes...