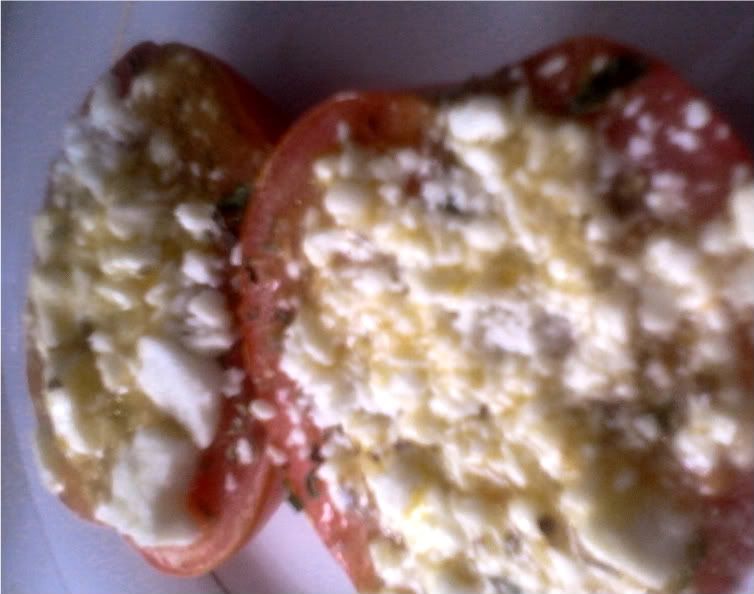 I love my phone. If I could marry it, I would. I annoy my husband with how often I am on it. I like to catch up on blogs, read the latest news, and search for new apps in the marketplace. I used to search for recipes online, which would take forever...then I found the What's For Dinner app. I am in love. I type in the meat or ingredient that I am looking to use, it searches the web, and brings up a pretty little list of all of the recipes that fit the criteria I enter. It will be perfect for all of the produce that I will buy in the summer.
Summer doesn't just bring produce. It brings bike season too. For me, this means weekend outings on the motorcycle for my husband. Not that I mind. I actually enjoy the one-on-one time with DJ and enjoy taking him to the park to play or for a walk around the neighborhood.
I made this recipe while DJ was napping one day and it was just me. I typically don't cook with feta cheese, but I had some in the refrigerator after the first recipe swap, along with plum tomatoes that needed to be used up ASAP. This was quick, simple, and delicious. The only change I will make the next time is to try dipping the tomato in the Italian dressing first. I have the feeling that it will help the seasonings and cheese adhere better to the tomato. I will have to try it out and update this entry based upon my results. Overall, t
he perfect quick little snack...thank you, What's For Dinner app. We are going to be wonderful friends.
Ingredients
6 plum tomatoes
1/2 teaspoon Italian seasoning
2/3 cup crumbled feta cheese
1/4 cup Italian dressing
salt and pepper to taste
Directions
Preheat broiler to high.
Cut tomatoes in half lengthwise and place cut side up on a baking sheet. Sprinkle evenly with salt and pepper to taste, Italian seasoning, and feta cheese. Drizzle evenly with 1/4 cup Italian dressing.
Broil 3 inches from heat (this was the top rack for my oven) two to three minutes or until the cheese starts to turn a golden shade of brown.
Source:
Southern Living, MyRecipes.com