"Why did arti-choke the chicken?"
To make a recipe from a swap, of course...
When I was thinking about participating in the What's Cooking recipe swap, several things flew through my mind. I thought I was crazy, too gutsy, too inexperienced...I knew that I was in trouble if one of the following happened:
1.) I received a recipe with unfamiliar ingredients
2.) I have no idea how to adapt or change the recipe or
3.) I have never made something similar and therefore have no idea how it tastes to have a basis for comparison.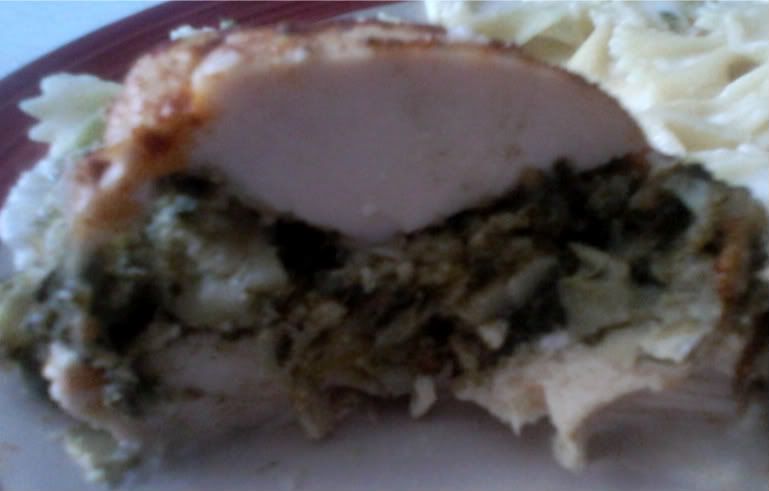 Despite my gut telling me to run and run far away, I decided that the only way to learn was to practice. So, I committed myself to the swap. When I received my swap recipe for Chicken Florentine Artichoke Bake, my worst fears came true. I was not familiar with all of the ingredients, no idea how to adapt it as I had no idea what the heck it was, and I had never tasted anything similar to it before. All three. Just my luck.
Ever the reseacher, I quickly looked up Chicken Florentine to see what the deal was all about. My game plan was to work from the base up. I learned that Chicken Florentine is dredged in flour, cooked with white wine and cream to make a sauce and served on top of sauteed spinach. That seemed simple enough, but I couldn't figure out how the artichokes came into play. Then I had an epiphany - read the original blog entry. I read that the Feta cheese worked well with the spinach and artichoke. Then it occurred to me, stuff the chicken with the spinach, artichoke, feta, and provolone cheese. The Monterrey Jack cheese and an additional half of a cup of Provolone was added in to a cream sauce. Needless to say, I surprised myself. I am keeping this dish in my recipe files for when I have company and want something impressive. I know that I won't be making this dish very often, but it was nice to switch things up, do some research (my favorite), and try something new. When I try this recipe again, I will roll the individual chicken breasts with the stuffing and may try sauteing the artichoke and spinach in butter before stuffing. One thing is for sure - I do not have a history in writing recipes.
In case you want to see the original recipe, please click here.

Artichoke Stuffed Chicken Florentine
For the chicken:
1 pound boneless, skinless chicken breasts, butterflied
1/2 tsp. paprika
1 Tbsp. butter, melted
1/2 cup chicken broth
For the stuffing:
1 small onion, chopped
1 clove garlic, minced
1 egg
1 tsp. dried Italian seasoning
1/2 cup Feta cheese, crumbled
1 14-oz. can artichoke hearts, drained and diced
1 10-oz. pkg. frozen chopped spinach, thawed and well drained
1/2 cup panko bread crumbs
For the sauce:
8 oz. dried bow tie pasta
1 cup Monterey Jack cheese, shredded
1-1/4 cups milk, 1/2 & 1/2 or heavy cream
1/2 cup grated Parmesan cheese
1 teaspoon parsley flakes

Directions
Preheat oven to 350 degrees. In bowl, combine onion, garlic, egg, Italian seasoning, Feta, artichokes, spinach, and bread crumbs. Stir together and set aside. Place handful of stuffing between each butterflied chicken breast. Secure with toothpick. Place stuffed chicken in an oven safe bowl, pouring over with chicken broth. Cook for 30 minutes.Cover with melted butter and paprika and cook an additional five minutes.
Cook pasta in pot of boiling water for eight to ten minutes or according to package directions. Drain and set aside.
For the sauce, make a roux by adding flour to melted butter. Wisk until golden brown. Add the milk and bring to a simmer. Add cheeses, parsley, salt, and pepper to the roux and bring to a simmer. Add cooked pasta and turn to coat.
Serve with pasta as a base for the chicken. Enjoy!