Every weekend at some point is pizza night at our house. I think it's always nice to have a night in - usually with pizza night and a movie from Redbox. When I first started, I bought pre-made everything. Those little pizzas were good when we really didn't have a fully functional and equipped kitchen, but soon I was ready to move on and make a little more myself. I started making the pizza dough recipe from Annie's Eats.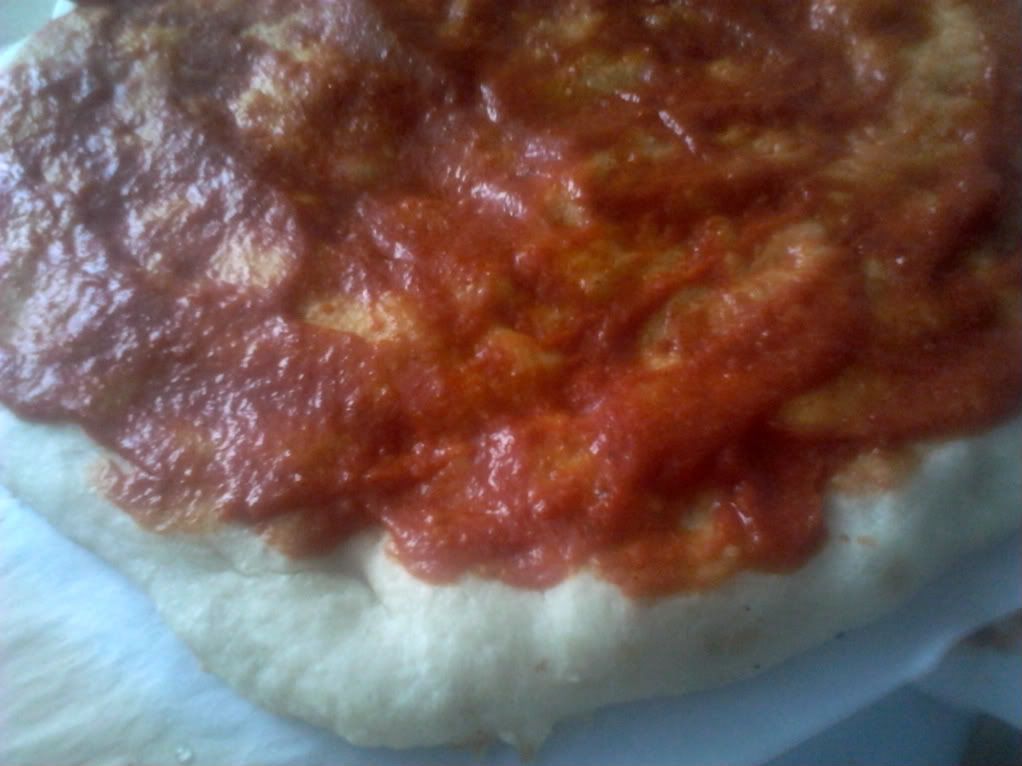 This past weekend, I realized that I had no pizza sauce. I turned to my pantry and realized that I had enough crushed/diced/whole tomatoes to be able to finally try homemade sauce - something that I always wanted to do, but never got around to. This sauce is amazing. It matches well with the dough, cheese, and has the perfect consistency that my family likes with a little bit of chunk in the sauce but does not leave you feeling like you just ate a whole tomato. I adapted this recipe based upon the reader reviews and added 1 teaspoon of brown sugar to balance the acidity of the tomatoes. I also used my immersion blender to make a more consistent sauce and break up some of those larger tomato pieces that were floating around. This recipe makes a lot of pizza sauce. I froze them in one pizza increments so that I can thaw them as needed. Whatever will I do with it? Oh, the possibilities.
Ingredients

1/2 cup chopped onions
2 tablespoons minced garlic
2 tablespoons oil
1 cup crushed tomatoes
8 ounces tomato sauce
6 ounces tomato paste
1 teaspoon brown sugar
1 teaspoon salt
2 teaspoons oregano
2 teaspoons basil
1/8 teaspoon pepper
Directions
In a large skillet, heat oil over medium heat. Add onion and garlic and saute until tender, about five minutes. Be careful not to burn the garlic or you will have to start all over!
Add remaining ingredients and stir to combine. Using an immersion blender, break up the larger pieces of tomato. Let simmer for 30 minutes, stirring occasionally.
Source: adapted from MizzNezz, Food.com