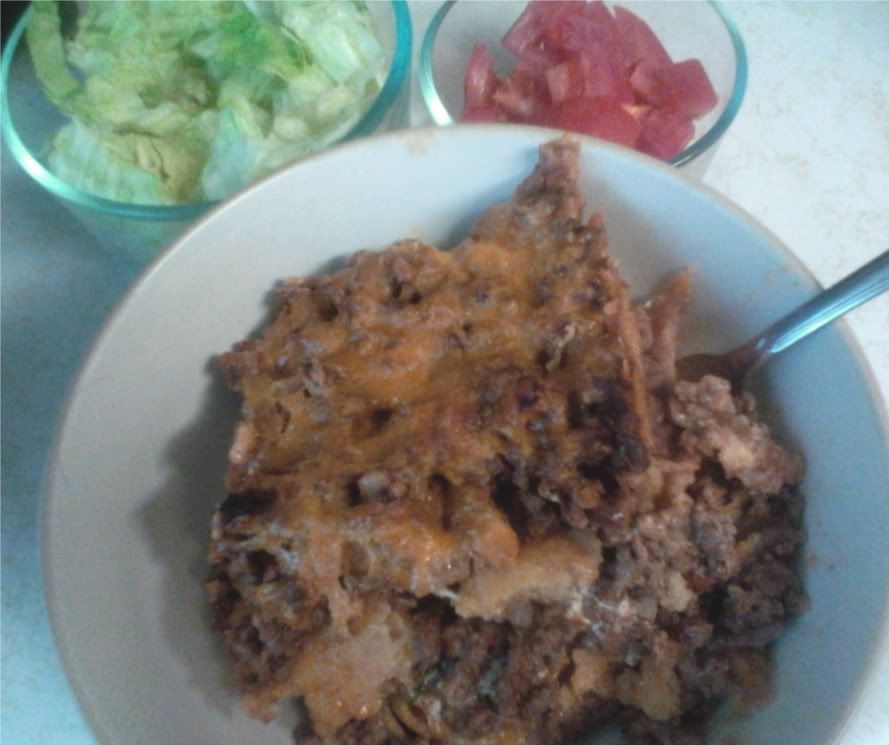 In my first recipe swap with the ladies of What's Cooking, I was a nervous wreck. I had ingredients that I was not familiar with and did the best I could. The theme this time was easy weeknight meals. I was the lucky recipient of Acapulco Delight by the wonderful Nestie Eli311. The recipe calls for layers to be made using corn tortillas, meat with seasonings and salsa, beans, and sour cream. This was right up my alley and something that will definitely enter into the rotation. This was reminiscent of my days at Taco Bell and tasted like a mexican pizza. Mmm...
One thing about this recipe is that it makes a lot of food. The original recipe can always be adapted to be made for a smaller crowd. All three of us ate it for dinner, it made leftover lunch for me, and I still have some of it in the fridge. Too bad that it's a meat abstinence day today. When I made this, I actually used half the amount of beans called for in the original recipe posted below. I had to sneak them in so my boys would eat them.
I think the next recipe swap should be desserts...just sayin'!
Ingredients
2 lbs. lean ground beef or ground turkey
1 pkg. taco seasoning mix or homemade seasoning
15 oz of salsa
6-8 corn tortillas
2 c. shredded Cheddar cheese
1 can refried beans
1 c. sour cream
1/2 c. chopped green onions
1 (2.2 oz.) can sliced black olives (optional)
Chopped lettuce and tomatoes
Directions
Brown meat in skillet, drain off fat, stir in taco seasoning with water according to package directions. Add salsa, and simmer 10 minutes. Place 2 to 3 tortillas in a buttered 9x13 inch baking dish and spread with half of the meat mixture, then sprinkle with 1/2 cup shredded Cheddar cheese.
Top with 2 or 3 more tortillas, spread with refried beans. Cover beans with sour cream. Sprinkle with chopped green onions and sliced olives. Place 2 or 3 more tortillas over that layer and cover with remaining meat mixture and top with remaining cheese. Bake at 350 degrees uncovered for 25 to 30 minutes or until bubbly, serve with chopped lettuce and tomatoes and sour cream.
Source: Nestie Eli311