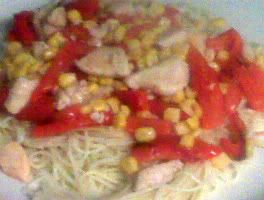 Wow, it has been quite some time since I have blogged last. My job was very busy with a science fair that I was the coordinator of. It was a complete success and the first one in about a decade, so I am very proud of all that the students achieved. It was nice to see the hallway filled with projects that the students worked so hard on. After that, I was sidelined by the stomach flu, something that I am still battling today. It is very difficult to make food that looks absolutely delicious and not be able to eat it.
Last night, I overcame one of my fears - my broiler. I have always had fears about the broiler. Coming from a family that ate processed and pre-packaged everything, the broiler was never used. It can be a little intimidating to try new things in the kitchen. That is why I love cooking so much. I like taking that little risk of trying something new like a new recipe or a new cooking method. To roast the peppers, I followed roasted bell pepper post by the ever wonderful Branny of Branny Boils Over. Her step by step method was wonderful, easy to follow, and gave me the little boost of confidence that I needed to tackle my broiler. This meal is very easy to put together and tastes wonderful (or so I've been told), so give it a try!
Ingredients:
2 chicken breasts, thawed
1 can whole kernel corn, drained
1 can chicken broth
2 tablespoons butter
2 tablespoons flour
1 cup roasted bell peppers (follow roasted bell pepper post)
1/2 pound pasta
salt and pepper, to taste
Directions
1.) Place chicken breasts into pan on medium high heat. Cook until juices run clear. Transfer to plate and cover to keep warm.
2.) Melt butter into pan and add flour, creating a roux. Wisk until golden color. Gradually add can of chicken broth, wisking continuously. Add salt and pepper to taste. Bring to boil and reduce heat. Allow to simmer 5 to 10 minutes.
3.) Cook pasta according to package directions. Drain and set aside.
4.) Add chicken, corn, and roasted peppers to pan with gravy. Simmer for 5 to 10 minutes, allowing flavors to meld and the gravy to thicken.
5.) Serve on top of pasta.
Source: adapted from 1,001 Easy, Inexpensive Recipes