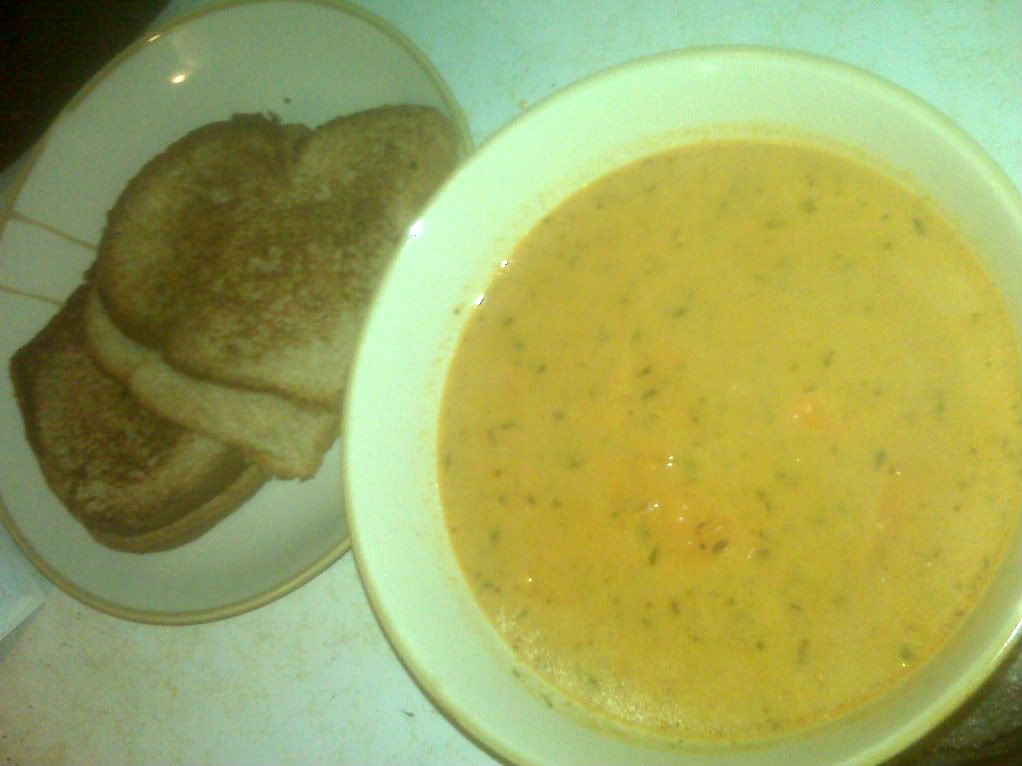 Wow...look at that soup. So warm and inviting - begging for you to grab a spoon and dig in. Sometimes, bad soup happens to good people. It's just unavoidable. I don't even know where to start. This soup was so overly seasoned, that I took one bite and down the sink it went. I never thought of a soup being such a thing as too "busy" with all the different spices going on, but this certainly falls under that umbrella. Being such a bad recipe, I have chosen not to post the recipe here (I wouldn't even serve it to the bratiest punk I know), but instead to ask opinion.
Dan loves sweet potatoes, as does DJ. Cream of sweet potato is something that I'd like to add to my repertoire, but it's just a case of finding the best recipe. I started this whole blog with the intention of finding the foods that work for my family, sharing them, and documenting the fun memories that I have along the way. I'd like to try to a different sweet potato recipe, but have found two. So, here it is, help me out. When I attempt this recipe again, should I use:
Recipe #1:
ZOEMC, Allrecipes
Ingredients
3 large sweet potatoes

3 (14 ounce) cans low-sodium chicken broth

1/4 cup brown sugar, or more to taste

1/2 teaspoon salt (to taste)

1/4 teaspoon ground nutmeg

Black pepper to taste

Cayenne pepper to taste

1/3 cup heavy cream
Directions
Preheat oven to 350 degrees F (175 degrees C).

Bake sweet potatoes in preheated oven until soft, about 1 1/2 hours (you can also use a microwave). Remove and let cool slightly.

Peel sweet potatoes, and puree with chicken broth in batches, using enough chicken broth so that it purees smoothly. Bring puree to a simmer in a large saucepan over medium-high heat, then reduce heat to medium-low. Stir in the sugar, salt, nutmeg, black pepper, and cayenne pepper; cover, and let simmer for 10 minutes. Remove from heat, and stir in cream.
Recipe #2:
Creamy Sweet Potato with Ginger, USA Weekend Columnist Pam Anderson via AllRecipes
Ingredients
2 tablespoons olive oil

1 1/2 pounds peeled raw sweet potatoes, cut into 1-inch chunks

1 large onion, cut into large dice

1 tablespoon butter

1 pinch sugar

3 large garlic cloves, thickly sliced

1 1/2 teaspoons ground ginger

1/2 teaspoon ground nutmeg

1/8 teaspoon cayenne pepper

3 cups chicken broth, homemade or from a carton or can

1 1/2 cups half-and-half (or whole milk)

Salt and freshly ground pepper, to taste

Garnish: chopped honey-roasted peanuts
Directions
Heat oil over medium-high heat in a large, deep saute pan until shimmering.

Add sweet potatoes, then onion; saute, stirring very little at first, then more frequently, until vegetables start to turn golden brown, 7 to 8 minutes.

Reduce heat to low and add butter, sugar and garlic; continue cooking until all vegetables are a rich spotty caramel color, about 10 minutes longer.

Add ginger, nutmeg and cayenne pepper; continue to saute until fragrant, 30 seconds to 1 minute longer.

Add broth; bring to a simmer over medium-high heat. Reduce heat to low and simmer, partially covered, until sweet potatoes are tender, about 10 minutes.

Using an immersion blender or traditional blender, puree until very smooth, 30 seconds to 1 minute. (If using a traditional blender, vent it either by removing the lid's pop-out center or by lifting one edge of the lid. Drape the blender canister with a kitchen towel. To 'clean' the canister, pour in a little half-and-half, blend briefly, then add to the soup.)

Return to pan (or a soup pot); add enough half-and-half so the mixture is souplike, yet thick enough to float garnish. Taste, and add salt and pepper if needed. Heat through, ladle into bowls, garnish and serve.
Thanks for your help. I will be sure to let you know which recipe prevails!