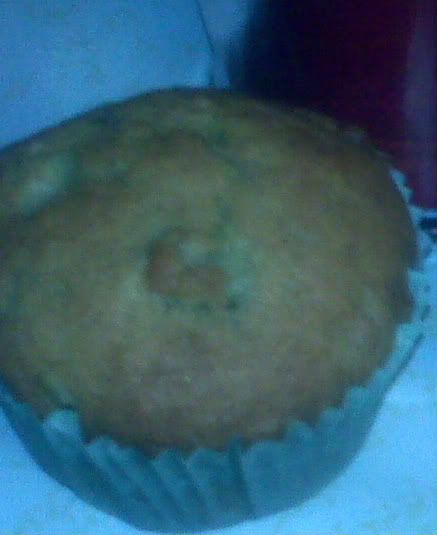 It is very hard to roll out of bed on any given Monday. When the alarm goes off in the morning, I want to throw the covers up over my head and just go back to sleep. That's on a typical Monday...throw in a late night watching a disappointing loss by your home team in the biggest game of the year and you're really in trouble. When I say late, I mean that I usually am in bed by 8:30pm.
When I asked Dan what he wanted for breakfast, he said something with banana. I love looking for breakfast items. It is like a giant scavenger hunt. I look through all my cookbooks and browse the web until I find something that looks and sounds good. Dan always makes fun of me because he says that I am always on my phone. Well, I am and constantly looking up new recipes to try and seeing what my favorite bloggers have posted about.
I turned to these banana muffins. I'm not a huge fan of bananas, but my fellas like and eat them, so I always have them around. I did try one of these muffins and was pleasantly surprised that I liked them as much as I did. They were soft and fluffy with a nice flavor. It was a nice little pick me up to the start of another fun Monday.
Ingredients
1 1/2 cups all-purpose flour
1 teaspoon baking powder
1 teaspoon baking soda
1/2 teaspoon salt
3 large bananas, mashed
3/4 cup white sugar
1 egg
1/3 cup butter, melted
Directions
Preheat oven to 350 degrees F (175 degrees C). Coat muffin pans with non-stick spray, or use paper liners. Sift together the flour, baking powder, baking soda, and salt; set aside.

Combine bananas, sugar, egg, and melted butter in a large bowl. Fold in flour mixture, and mix until smooth. Scoop into muffin pans.

Bake in preheated oven. Bake mini muffins for 10 to 15 minutes, and large muffins for 25 to 30 minutes. Muffins will spring back when lightly tapped.
Source:
Banana Muffins II Recipe, AllRecipes