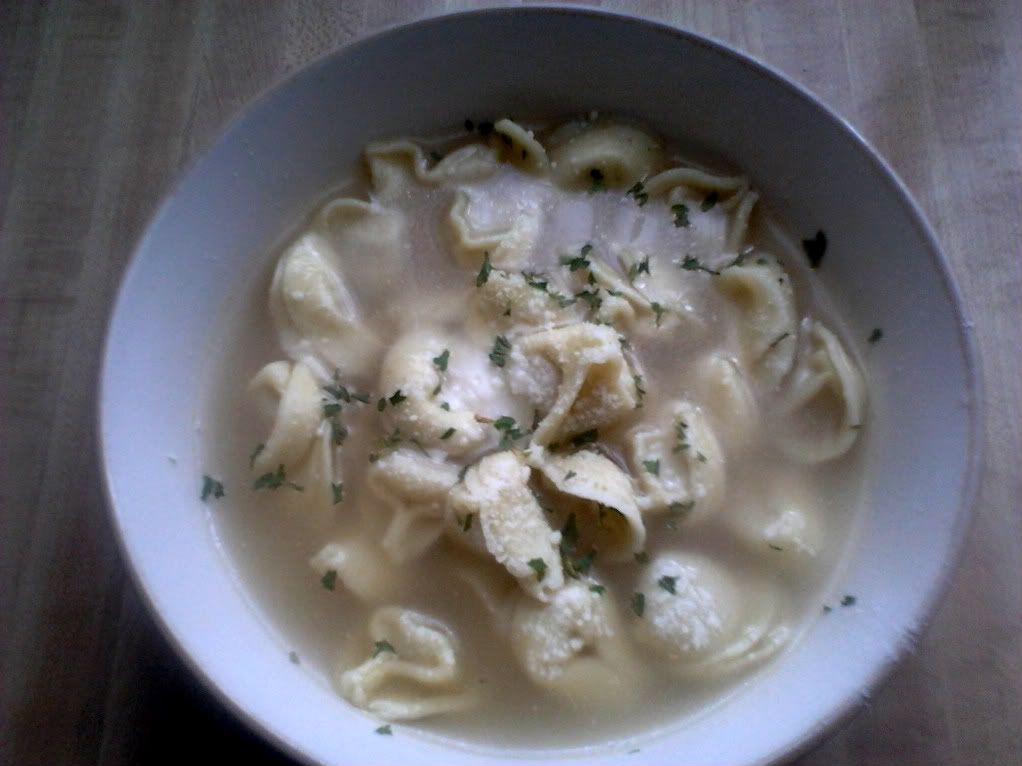 On the weekends, I like to make things that are super simple. The less dishes that are dirtied, the more I like the recipe. I tend to shy away from planning meals that require more than two pans in a meal. I mean, taste matters of course, but only dirtying a few dishes is much better than having to load the dishwater full of pans just for a meal.
I found this recipe while breezing through my Giada

Everyday Italian

cookbook. When looking at the Food Network website, she has since included Parmesan crisps to this recipe. Next time I make this, I will have to try the crisps as well. The version that I made had Parmesan cheese sprinkled on top along with the parsley. The reviews for this recipe say that it is a great base for adding more flavor through celery, carrots, and other vegetables. I prefer to keep it as is because simple truly is best and best left untouched.
8 cups low-salt chicken broth

Freshly ground black pepper
2 (9-ounce) packages refrigerated cheese tortellini
2 tablespoons chopped fresh Italian parsley leaves
Pour the broth into a heavy large saucepan. Cover and bring to a boil over high heat. Season the broth with pepper, to taste. Add the tortellini. Simmer over medium heat until al dente, about 7 minutes.
Ladle the broth and tortellini into soup bowls. Top with parsley and Parmesan and serve.