When I first started cooking, I loved the Pioneer Woman. Her section devoted to the food that she makes for her husband and punks really helped me to achieve a higher comfort level in the kitchen. The first time I made MM's favorite sandwich, I remember feeling like the commercial with the guy that puts a stick of butter in his mouth and starts to eat it before his family sees. I decided to change the recipe a bit and make it a bit healthier.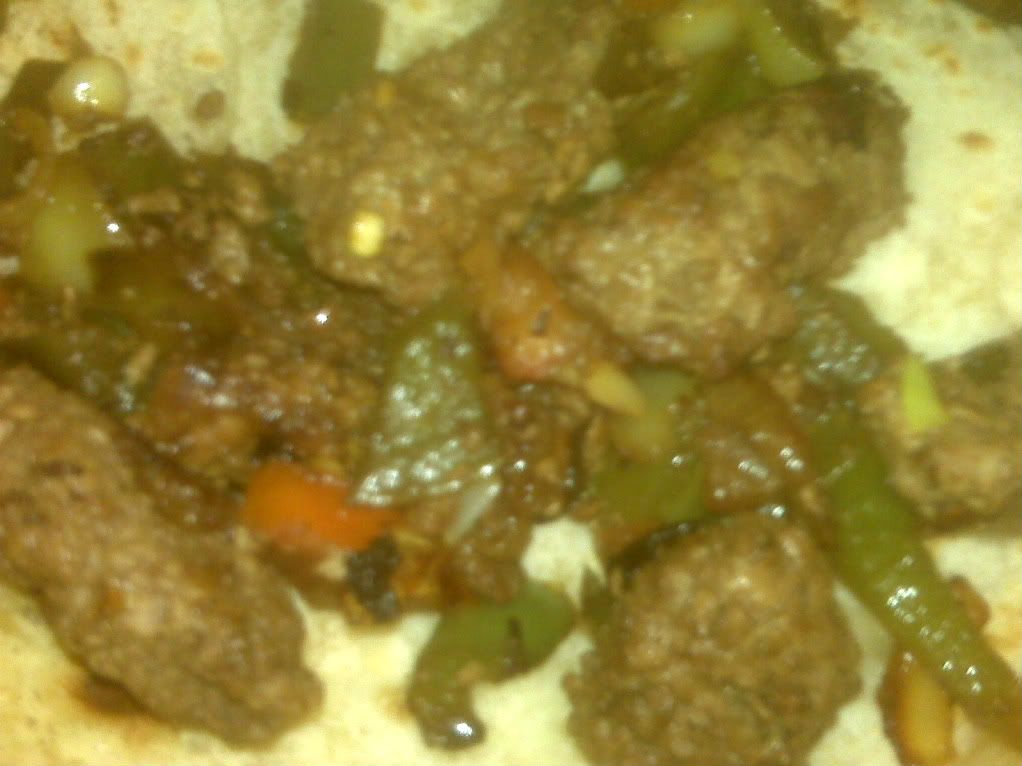 I added far less butter, more vegetables, and put them in a homemade flour tortilla that I will have to blog the recipe for some day. I have also tried the Pioneer Woman's tortillas, but was boggled down in the complexity of the recipe and had an epic fail. I am so glad I learned and started making them myself. It is truly worth the little bit of extra effort. Getting ready for garbage day, I actually threw out all the half used bags of tortillas because I know I will never use them again.
Ingredients
1 small onion, diced
1 tomato, diced
2 cloves garlic
1 green pepper, diced
2 tablespoons, butter
2 tablespoons, olive oil
2 pounds Cube Steak
Lawry's Seasoned Salt
½ cups (approximately) Worcestershire Sauce
Tabasco Sauce, To Taste

Directions
Prepare onions, tomato, garlic and pepper and cook in butter until soft and light brown. Remove and set aside. Slice cube steak against the grain. Season with Lawry's.
Heat olive oil over high heat (in same skillet). Add meat in single layer. Cook one side until brown, then flip and cook until brown, about a minute on both sides. Add 1/2 cup (at least) Worcestershire sauce and Tabasco as desired. Add cooked onions. Stir to combine.
To assemble, lay tortilla on plate. Place meat mixture, followed by a spoonful of juice from the pan if desired.
Source: Adapted from Pioneer Woman